The seals used for Aviation are vital. If a seal fails or tears during a flight at a height of a few kilometers, this can cause a life-threatening situation. For this reason, the seals must be of the best possible quality and must not be damaged.
We can recommend the most appropriate elastomer materials, O-rings for Army & Defence Industryon the following applications:
Large Civilian Aircraft
Small Civilian Aircraft/ Military Aircraft
Helicopters
Gun Systems
Ships
O-rings for Army & Defence Industry are also used to create an airtight or watertight seal around enclosure openings to prevent contaminants from coming in. The most used applications for these protective products are used as:
Seals around doors, windows and hatches
Safeguarding personal protective and commination equipment
Protection for interior engine compartments and mechanical systems
Vibrations mounts for electronic displays
Protecting covers for electronic components
What quality marks/certificates do we have for the Army & Defence industry?
ISO 9001.2015
What the ISO 9001.2015 certification means is a process where third certification body assesses organization to determine whether or not it sufficiently demonstrates conformanceto there quirementsof the standards. The worldwide standard that sets requirements for a strong Quality Management System. It details specific processes, procedures and activities that organizations must create, implement, maintain and improve in order to successfully manage makin products or delivering services.
ISO 14001.2015
ISO 14001.2015 is ideally suited for organizations that want to give attention to environmental aspects a permanent place in their business operations. In short, with an ISO 14001 system you send a signal to those around you that you really take the environment seriously. Moreover, with the ISO 14001 certificate you make it demonstrable.
OHSAS 18001
OHSAS 18001 covers the whole of policy making, implementation, monitoring and improvement. The organization itself determines the objectives and measures based on the health, safety and risks hazards. Compliance with laws and regulations is an integral part of this. OHSAS is based on all activities and processes and their occupational health and safety and risks hazards (including psychosocial workload) for all employees. According to OHSAS 18001, a safety management system must be based on an Occupational Health and Safety Policy.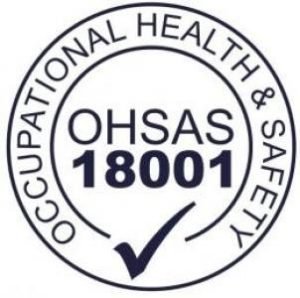 AS 9120
AS 9120 is a standard quality management system with requirements and is used at all levels of the supply chain by organisations around the world. The use of AS 9120 results in improved quality, cost, and delivery performance through the reduction or elimination of organisation-unique requirements, effective implementation of the quality management system, and wider application of good practice. While primarily developed for the aviation and space industry,
Where can i find O rings for the Army & Defence industry?
We have a lot of different O-rings for Army & Defence industry on our site here.
More information:
Do you want more information about the quality marks? Or you have another question? Get in touch with us! Our team of specialist is avalibe to you from monday till friday 8:30-17:00. Just use the contact form below, or take a look at our contact page.
Would you like to learn more about the different industries we supply with O-rings? Click here!